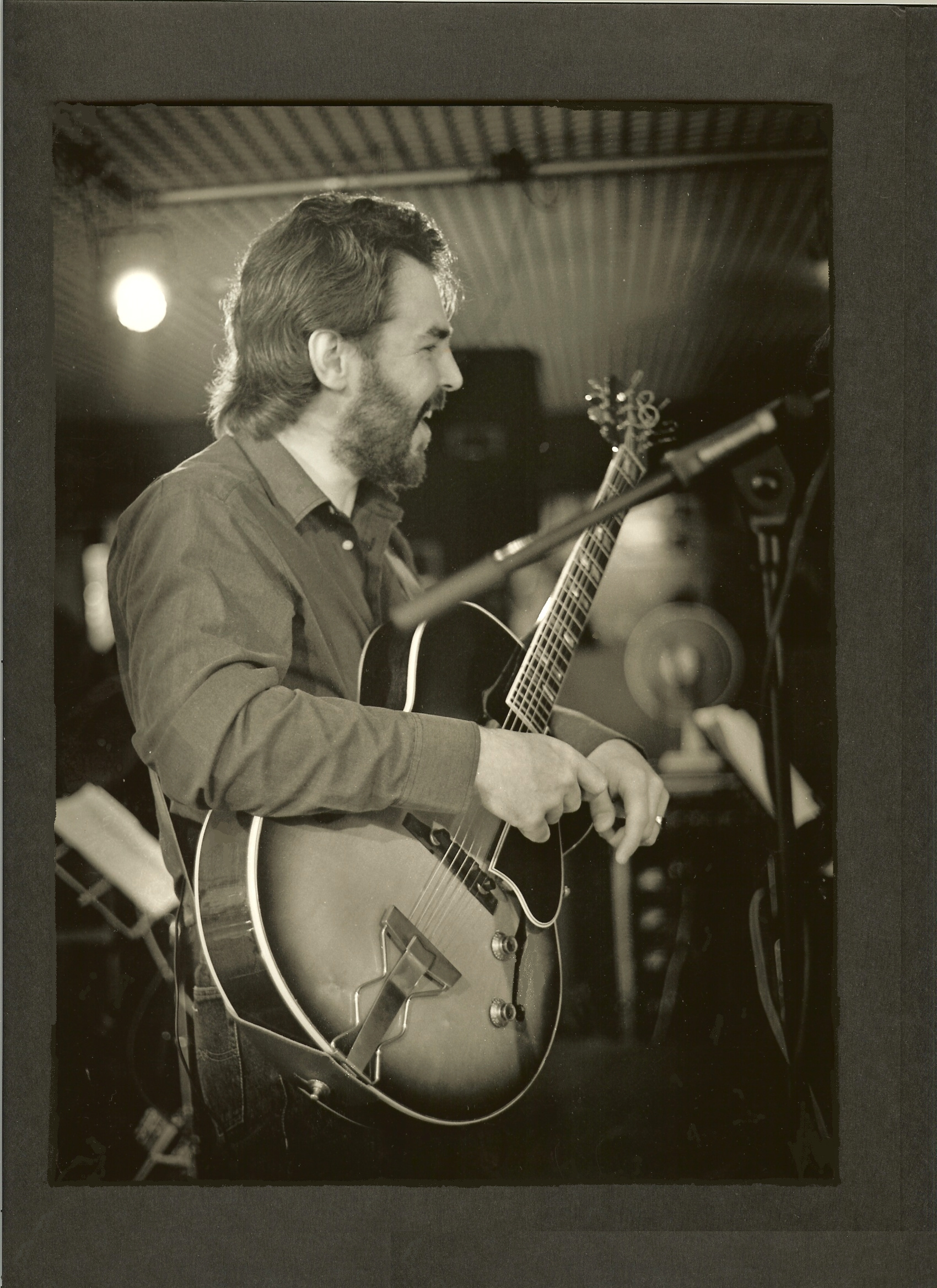 Dr. William Mann LTCL, B.Sc (Hons), Ph.D, is a qualified Guitar instructor with a wealth of teaching experience obtained at state and independent schools as well as in home tuition.
Bill studied for the LTCL music teacher's diploma at Aberdeen College of Commerce in the early 1980s. Whilst at college, Bill collaborated with fellow guitar teacher Mr. Andrew Brown in co-writing (and performing) the music for the college panto' two years running. Recent collaboration was GUITARRA MANOS.
During his musical career, Bill has been fortunate to have had a wide and assorted range of performing experiences from theatre and formal concerts to music festivals, casual gigs, and private functions. Bill will play any (good) music from classical to blues and jazz and everything in-between and beyond.
Bill has worked in theatre 'pit' orchestras and on stage with local and national theatre companies in productions of musicals, pantomimes, and light entertainment variety shows at His Majesty's Theatre (HMT), Aberdeen Arts Centre and many other venues in Aberdeen and North East Scotland.
Bill performed with his band 'Jazmin' at the Regensburg International Jazz Festival in Bavaria, sponsored by Aberdeen City Council in the early 1990s.
Bill has enjoyed several long-term 'lounge' residencies at various venues and gained valuable experience in writing arrangements and in composing original music, listen to Demonstrations.
Bill has performed many times with his own bands, Jazmin & Pastiche (as well as in other bands) in the Sunday lunchtime jazz sessions at The Lemon Tree, Aberdeen since the venue opened.
Bill is sometimes asked to dep' for guitar players in other bands if they are unable to take a booking for any reason, and even on his fretless Bass occasionally. Bill will consider any musical project, for example, in 2008 Bill made his debut as Mandolinist with the 'Orchestra of the North' in the See (visual), Salt & Sound festival at the Beach Ballroom Aberdeen in 2008.
Apart from teaching and performing on the guitar, Bill also ran The Aberdeen Jazz Society (as co-founder & secretary) in the late 1980s and early 1990s. Bill took part in broadcasts on arts programmes on BBC Radio Scotland and NorthSound to publicise the society, which was sponsored by the Scottish Arts Council. During his time as secretary of the AJS, Bill met many eminent and most excellent musicians after inviting them to play for the jazz club.

Additionally (in what started as a hobby), Bill entered into academia studying Maths, Physics and Computing Science and attained the degree of Bachelor of Science with Honours in Psychology. Bill continued to teach guitar and gig throughout his studies, albeit on a much reduced level.
After graduation, Bill went on to accomplish the postgraduate degree of Doctor of Philosophy, by research in the field of visual neuroscience.
Doctoral thesis:
'An Investigation of the Visual Correlates of Developmental Dyslexia'.
Related Research Published:
Gilchrist, J.M., Pierscionek, B.K., and Mann, W.M. (2005).
Use of the Hermann grid illusion in the measurement of contrast perception in dyslexia.

Vision Research, vol 45, pp. 1-8.
Surbiton, Kingston upon Thames, Greater London
Copyright (c) 2009 - 2018 by Dr Bill Mann, West Bridgford, Nottingham